You are here
July 2016

Singapore International Water Week 10-14th July 2016
Good luck to Hydro Nation Scholar Robert Šakić Trogrlić who is attending the Young Water Leaders' Summit in Singapore next week. Designed by young water professionals, for young water professionals, the Summit aims to profile the global water industry as an exciting and innovative sector, to inspire young water professionals with leadership potential to develop their careers in the water industry, and to connect young water professionals with established business leaders, who serve as role models. As part of his involvement in preparations for the Summit, Robert has led work on producing a 'Survival Kit' of practical advice to participants on how to make the best out of an international event ahead of the Summit.
10th July 2016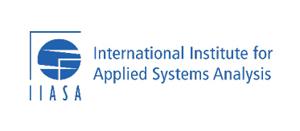 Hydro Nation Scholar, Nazli Koseoglu's research stay at IIASA, Vienna Summer 2016
Nazli Koseoglu is on a 3 month research stay at the International Institute for Applied Systems Analysis (IIASA), Vienna. IIASA is an international scientific institute that conducts research into the critical issues of global environmental, economic, technological and social change that we face in the twenty-first century with the focus of producing policy relevant results. With her project, Nazli aims to produce findings which will contribute to the efforts in diffuse pollution reduction in Scotland.
1st July 2016
June 2016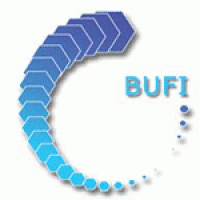 BUFI Science Festival 17th June 2016
Hydro Nation Scholar, Robert Šakić Trogrlić took part in BUFI Science Festival organised by British Geological Survey and NERC. The BUFI Science Festival is an annual competitive event and Robert's poster titled 'Community-based flood risk management for Malawi' received a highly commended prize.
17th June 2016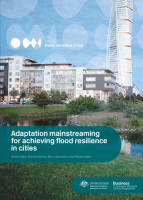 Hydro Nation Scholar, Robert Šakić Trogrlić co-authors report on flood resilience in cities
1st June 2016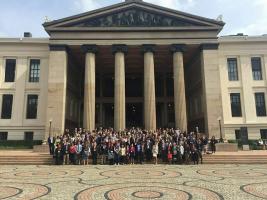 14th Annual Colloquium of the IUCN Academy of Environmental Law 20-24 June, 2016
Hydro Nation Scholar, Ruby Moynihan, recently presented her PhD research at the 14th Annual Colloquium of the IUCN Academy of Environmental Law hosted by PluriCourts, Center of Excellence for the Study of the Legitimacy of International Courts and Tribunals, at the University of Oslo.
1st June 2016
May 2016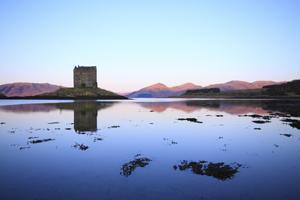 BENELEX Workshop on Water and Benefit-sharing, 12th May 2016
Hydro Nation Scholar, Ruby Moynihan presented on 'International Water Law and Equity' at the BENELEX Workshop on Water and Benefit-sharing, a workshop on benefit-sharing issues related to water, held at the University of Edinburgh together with experts from the University of Geneva International Water Law Platform.
12th May 2016

4th International Climate Change Adaptation conference 10-13th May 2016
Adaptation Futures is the biennial conference of the Global Programme of Research on Climate Change Vulnerability, Impacts and Adaptation (PROVIA). The fourth edition was held in May 2016 in Rotterdam. Hydro Nation Scholar Robert Šakić Trogrlić gave a presentation titled 'Rebuild by Design: Implementation of green infrastructure for flood resiliency in Hoboken' at the Designing a Climate Resilient Future session. On 13th of May 2016, UNESCO- IHE and Deltares organised an event entitled Young Scientists Event on Disaster Risk Reduction, at which Robert was invited to give a young scientist pitch on Disaster Risk Reduction Governance, discussing his PhD case study in Malawi.
10th May 2016
April 2016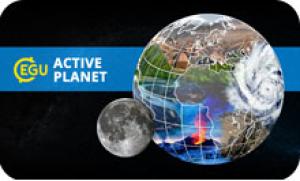 EGU General Assembly, Vienna, Austria 17-22nd April 2016
17th April 2016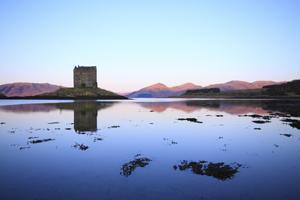 Hydro Nation Scholars first year training programme Spring 2016
As in previous years, the scholars in the first year of study for their doctorate attended introductory sessions with Scottish Environmental Protection Agency, Scottish Water and the Water Industry Commission for Scotland to learn about how these organisations operate and to share how their PhD topics aim to address aspects of the Hydro Nation agenda.
1st April 2016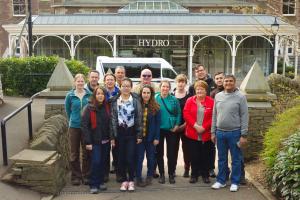 Scotland the Hydro Nation 'Road trip' May 2016
In May 2016, eight Hydro Nation scholars took to the road with the Hydro Nation staff team to explore the pressures and competing demands on, and the ecosystem services provided by, our water resource in Scotland. During the road trip, we considered how benefits and conflicts can be maximised through water resource management and contribute to the Hydro Nation Strategy. From a highland distillery to a lowland flood defence scheme, visits to a wide range of field sites allowed discussion with those implementing water policies on the ground, alongside those developing water policies. Site visits covered contrasting issues and pressures, including land use, flooding, industry, marine and restoration. Many thanks to the scholars for their enthusiasm and excellent final presentations which summarised the week's learning on water pressures, policies and futures and approaches to water management.
1st April 2016