You are here
July 2020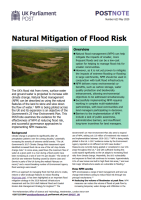 Scholar acts as an expert contributor and reviewer for POST
Hydro Nation scholar, Kirsty Holstead, recently acted as an expert contributor and reviewer for Westminster's Parliamentary Office for Science and Technology (POST) at Westminster.
Kirsty provided and reviewed evidence for a policy note for the Environment, Food and Rural Affairs Committee relating to community involvement in natural mitigation of flood risk management. She was one of 18 experts chosen in the UK.
Her research on farmers' perspectives of natural flood management [paper] as well as organisational barriers to flood management in Scotland [paper] were cited in the final note.
  The note finds that:
Natural flood management (NFM) can help mitigate the impacts of smaller, more frequent floods and can be a low-cost option for helping to manage flood risk for smaller communities. 
However, as it is not yet proven to mitigate the impacts of extreme flooding or flooding in large catchments, NFM should be used in conjunction with built flood infrastructure. 
NFM delivers many environmental co-benefits, such as carbon storage, water quality protection and biodiversity enhancement, allowing environmental objectives to be addressed simultaneously. 
Successfully implementing NFM requires working in complex multi-stakeholder partnerships, with local communities and land managers participating in decisions. 
Barriers to the implementation of NFM include a lack of public awareness, administrative barriers, and insufficient long-term incentives for land managers. 
The note and further information can be found here.
27th July 2020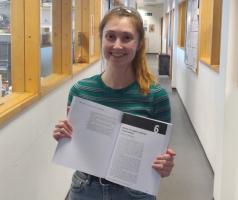 Hydro Nation scholar co-authors book chapter
A book containing a chapter co-authored by Hydro Nation Scholar Victoria Porley and her principal supervisor Prof. Neil Robertson has recently been published. The book, entitled "Nanostructured Photocatalysts", covers a wide range of topics including materials development and the applications of photocatalysts (semiconductor materials which facilitate chemical reactions when illuminated) to solar fuels and environmental remediation, particularly with regards to water treatment. The chapter written by Victoria Porley, "Substrate and support materials for photocatalysis", explores how immobilising photocatalysts onto solid supports can make the use of this technology in water treatment much more practically feasible and accessible, by covering which support materials are typically used and the appropriate chemical and/or physical processing methods that are associated with these.
24th July 2020
Sharing findings around pharmaceuticals in the environment
A video on Hydro Nation Scholar Lydia Niemi's PhD research was made by the Scottish Policy and Research Exchange. This video is part of an initiative to connect researchers and policymakers in Scotland, and aims to facilitate knowledge exchange, increase research impact and improve policy outcomes. Lydia met with representatives from the Scottish Parliament Information Centre (SPICe), and wrote a blog published by SPICe on pharmaceutical pollution in the environment and the significance to current policy in Scotland.
6th July 2020